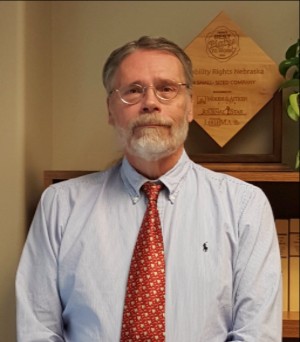 From the Desk of the CEO
---
Evans Named as New CEO of Disability Rights Nebraska
October 1, 2015
Eric A. Evans has been named chief executive officer of Disability Rights Nebraska, a statewide advocacy organization, effective October 1. Eric, who has worked for the agency since 1987, succeeds Tim Shaw, who retired September 30.
Many will recognize Eric as the chief operating officer of the agency, a position he had held since 2007. Before that, Eric was deputy director. Before joining Disability Rights Nebraska, Eric had an extensive background in disability policy within state government. He was executive director of the Nebraska Governor's Planning Council on Developmental Disabilities from 1983-1987, its acting director from 1981-1983, and its planning director from 1979-1981. From 1976 to 1978, he served as a mental retardation program specialist within what was then called the Nebraska Department of Public Institutions. From 1974 to 1975, he was a social services worker for that state agency.
"As CEO of Disability Rights Nebraska, I will work diligently to be engaged with existing allies and to initiate relationships with new collaborative partners in rural and urban areas throughout Nebraska. I see the next few years as an opportunity to capitalize on the energy change brings, with the knowledge and skills that all employees at Disability Rights Nebraska posess, I stand prepared to lead that transition."
Eric holds a bachelor's degree in anthropology from Miami University in Oxford, Ohio specializing in social anthropology, linguistics and philosophy. He holds a master's degree in anthropology from the University of Nebraska-Lincoln, specializing in cultural anthropology. In 2011, Eric earned a doctorate in educational studies from UNL, specializing in education policy, practice and analysis. Since 2002, he has been a lecturer in the Department of Teaching, Learning and Teacher Education in the UNL College of Education and Human Sciences. He pursued his doctoral degree while working full-time at Disability Rights Nebraska.
Eric has been involved with some major systems-level accomplishments, including:
  The Developmental Disabilities Service Act of 1991, in which Nebraska's service system changed from an exclusive mental retardation emphasis to encompassing all developmental disabilities.
  The Nebraska Guardianship Act revisions of 1994, which provided for the use of limited guardianships.
  The Behavioral Health Services Act of 2004, which moved Nebraska's mental health system from an institutional model to a community-based services model, and provided for the inclusion of consumers in all aspects of service planning, delivery and evaluation.
  The Office of Public Guardian Act of 2014, which established a state-operated Office of Public Guardianship, bringing Nebraska in line with all 49 other states.
"Perhaps the most gratifying result of my work at the systems level, especially my strong commitment to empowering people with disabilities to become involved in advocating for or against legislation and policy decisions that affect them, is that people with disabilities in Nebraska are now realizing the maxim, "Nothing About Us, Without Us."
---