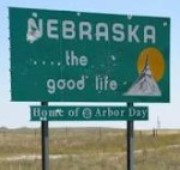 From the Desk of the CEO
---
REFLECTIONS ON MY RETIREMENT
September 24, 2015
The strength of Disability Rights Nebraska has been its vision.  A vision created 24 years ago by the Board of Directors and Staff working together.  It is a simple vision but it calls us every day to move forward and face the challenges embodied in its aspirations that:
Nebraskans with mental or physical disabilities are valued within their communities, have control over their own lives, and have the necessary resources available to experience a life of quality.
For the past three decades, our work has focused on three themes:  Dignity.  Equality.  Empowerment.  We have joined with people who experience disabilities on a journey to secure equal rights and justice.
Sometimes the story of our journey together has been recorded in newspaper headlines reporting on our litigation.  But more times the story has been quietly lived out in the help given to one person, one issue at a time; or in collaboration with others to further a common legislative agenda; or in providing educational opportunities about legal rights.
I am most proud of the fact that we have continued to embrace citizen advocacy all of these years as a vital part of our mission.  That is unique for the protection and advocacy systems in our nation.  In consultation with local independent citizen advocacy programs we have continued to affirm the power of a relationship and how that relationship preserves another person's dignity and strengthens their connection to community.
Through the theme of Dignity, we seek to be a model of positive interactions and interpretations of people with disabilities.  Regardless of the severity of the disability, we are firmly grounded in the belief that all people are entitled to dignity, respect, freedom of choice, and the liberty to act as a human being.
In our commitment to Equality, we do not see people with disabilities as dependent persons but as citizens to be assured of their rights and choices.
In our commitment to Empowerment, we seek to enhance opportunities for people with disabilities to control their own lives, to exercise their legal rights, to be heard, and to have the opportunity to express actual social influence and political power.
"Not everything that is faced can be changed, but nothing can be changed until it is faced." - James Baldwin
We find ourselves in a world where the predominate view encourages us to seek security and control.  There is a prevailing voice in our politic discourse that tells us to hold on to what's ours and say "no" to others.  That world view only creates scarcity. 
We know that for many, life is a constant struggle.  Not because they have a disability, but because of a lack of resources and the attitude of others.  
We also know that in communities of compassion and justice there is abundance.  There is a generous inclusive spirit of community.  Valued, affirming experiences of belonging thrive.  Resources are fairly shared. 
So we work to build communities of compassion and justice.  I believe we are, as Disability Rights Nebraska, a community of compassion and justice.  I see it every day in the hard work of all of our staff.  We work alongside individuals with disabilities and their partners to challenge exclusionary practices and to create a world of inclusion and abundance.
Inclusion is about who's in and who's out?  Who's at the table?  Who's not?  Inclusion is about justice and fairness.  It transforms lives of isolation into valued lives that are enhanced by the affirming experience of belonging.
Dignity, equality and empowerment – that's been the theme of OUR work together for the past 33 years.  Now, under the leadership of Eric Evans and our Board of Directors, and with the steady commitment and hard work of our staff, I am confident that those themes will not be lost but will be embellished and perfected.
I have enjoyed the blessings of a rich and rewarding career.  It has been rich in the opportunities to work for real and meaningful change that makes a difference in the world.  It has been rewarding because I had the freedom and support to strive to make a positive difference in many lives – one person, one issue at a time.
Thank you for making that possible.
---