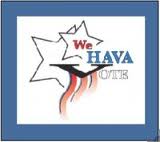 Let us never forget that government is ourselves and not an alien power over us. The ultimate rulers of our democracy are not a President and senators and congressmen and government officials, but the voters of this country.
--- Franklin D. Roosevelt

---
NATIONWIDE VOTING ACCESSIBILITY SURVEY
HOW DID YOUR VOTING EXPERIENCE GO?
The election's around the corner! The National Council on Disability (NCD), in collaboration with the National Disability Rights Network (NDRN) and EIN SOF Communications, Inc., wants to hear about people with disabilities voting experiences during the upcoming 2012 General Election.
Through a brief, open-ended questionnaire, NCD and our partners will collect information about voter's experiences, including any physical, attitudinal, or other barriers they may have faced when attempting to exercise your constitutional right to vote. We will issue a report based on the findings of the questionnaire in early 2013.
Please complete this online questionnaire and share the link with your friends, family members, constituents, and other consumers with disabilities. To take or share the questionnaire, please go to: http://www.surveygizmo.com/s3/1053447/Voting.
---
Helpful Links
Check Your Registration Status Chart
State-by-State Election Dates & Deadlines Chart
State Voting Laws & ID Requirements Chart
State-specific Absentee Ballot Request Wizard
Spanish-language State-specific Absentee Ballot Request Wizard
---
Register to Vote
Check your Registration
Find your Polling Place
Learn about Voter ID
Absentee/Vote-by-Mail
Become a Poll Worker
---
Voting Rights
---
Polling Place Accessibility
Print this survey and take it with you to your Polling Place on Election Day. Fill out the form and mail to the address at the bottom of the page. Calls to our office with any problem you may have are also welcome - 1-800-422-6691.

The ADA authorizes the Department of Justice to provide technical assistance to individuals and entities that have rights or responsibilities under the Act. This document provides informal guidance to assist you in understanding the ADA and the Department's regulation.
(This technical assistance does not constitute a legal interpretation of the statute.)

---
General Voter Information including:

Voter Deadlines for General Election
Election Forms
County Election Officials
Voter Registration/Location/Provisional Ballot
General Election Sample Ballots
Candidates on General Election Ballot
Judicial Retention Filing List
Official Primary Election Results
Election Calendar
Voter Information Frequently Asked Questions
Guide for Registering to Vote and Voting
Voter Rights
Election Maps