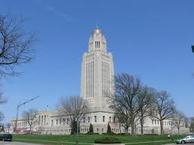 Disability Rights Nebraska has an active program of legislative and public policy advocacy. We provide analysis and develop positions on many key public policy issues affecting people with disabilities. Our positions on State legislation are arrived at through an extensive process of review and analysis by Disability Rights Nebraska Advisory Councils and the Disability Rights Nebraska Public Policy Team.
We work to push public policy breakthroughs by:
Developing testimony on high priority bills
Working in collaboration with other advocacy groups
Serving as a resource to other advocates
Conducting informational presentations and trainings
There are plenty of resources and ways to stay informed of State legislation and Disability Rights Nebraska's public policy activities. Our Legislative Updates webpage offers resources for those who are interested in Disability Rights Nebraska's public policy efforts throughout Nebraska's 105th Legislative Session. This page includes testimony, news stories, and other useful resources that pertain to the legislative session and our public policy interests. Additionally, the Nebraska Unicameral Website contains up-to-date information on State legislation, and our 2017 Legislative Priorities outline Disability Rights Nebraska's legislative interests. For other information related to Disability Rights Nebraska's public policy efforts, visit our Resources page.