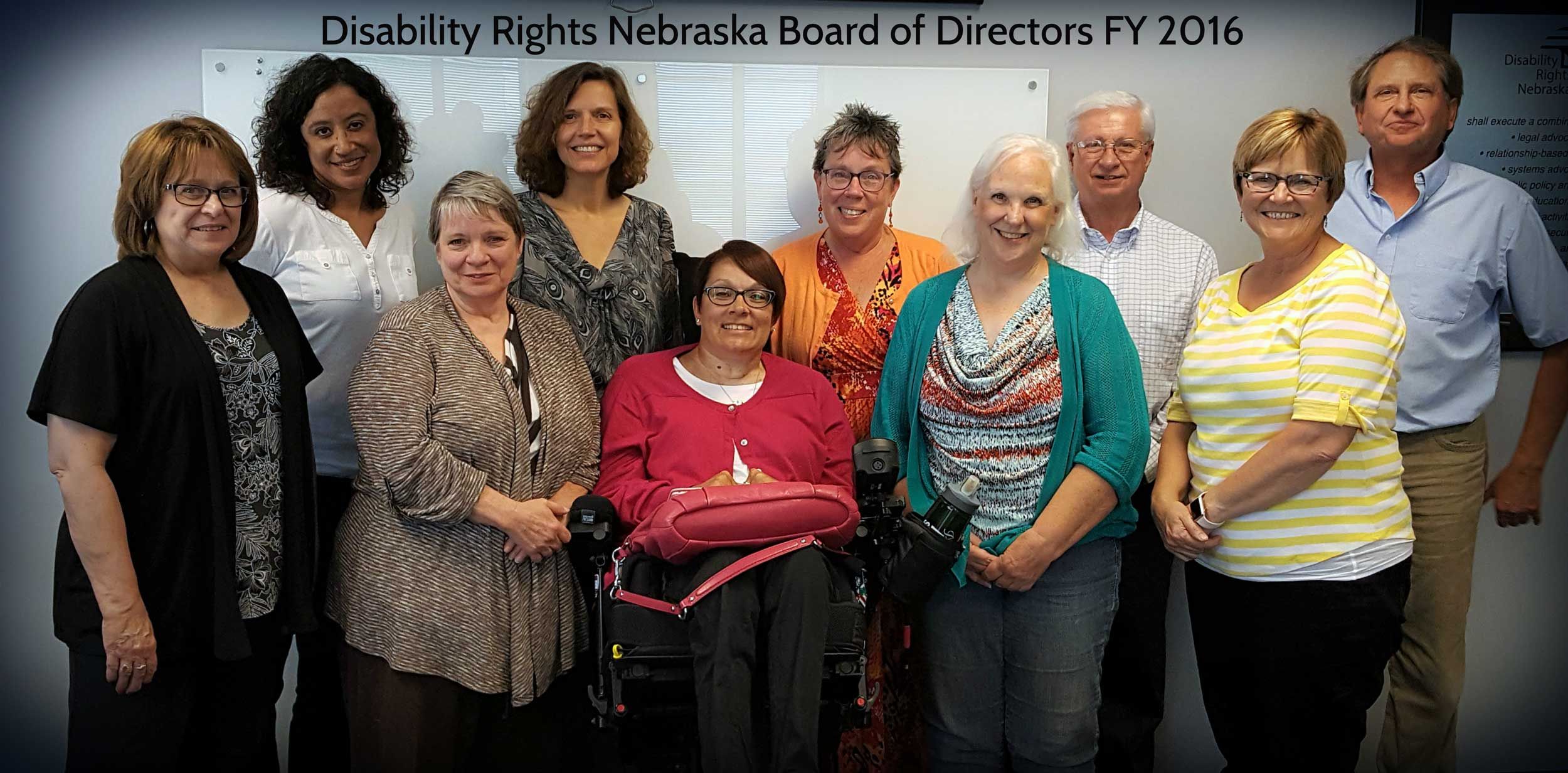 During the regular quarterly meeting of the Disability Rights Nebraska Board here at the office on Saturday, August 27th, we celebrated the achievements of three long-term Board members. Victoria Rasmussen, Jill Flagel and Julie Stahla have all completed at least three full 3-year terms on the Board. All have been strong and active advocates and were rewarded (at least to some small extent) with custom-engraved awards, really really good cake, and lots of well-wishes.
Jill Flagel has been on the Board since February 10, 2007. She was initially recruited to fill a partial term and went on to serve an additional three full terms. Jill has also served as Secretary and Vice Chairperson, and has served as Chair of the Board since October of 2013. Her outgoing personality, willingness to take on leadership positions, and desire to include others in her passion for advocacy have been great assets to the Board and the organization as a whole. Jill currently serves as the Director of Staff/Faculty Disability Services at the University of Nebraska-Lincoln.
Victoria (Vicki) Rasmussen has been on the Board since October 1, 2007 and has served as Treasurer since October of 2011. Vicki's dry sense of humor, her strong sense of responsibility, diligence and follow-through have made her a perfect fit as Treasurer for the Board. She has also been instrumental in keeping Disability Rights Nebraska connected to Nebraska's Vocational Rehabilitation program. Vicki currently serves as the Nebraska VR Program Director of Human Resources.
Julie Stahla has also been on the Board since October 1, 2007. Julie came to Disability Rights Nebraska through her work on the Board of Grand Island's Citizen Advocacy program. Julie has a son with disabilities and is actively involved in the disability rights community as an advocate with her son, and as an advisor to People First of Nebraska, a state-wide self-advocacy organization run for and by people with disabilities. Julie has served as Secretary to the Board since October of 2014. Julie and her husband Bob own and run Bob Stahla Homes in Grand Island, NE.
We have been extremely fortunate to have these three strong women leaders on our Board since 2007. As they transition off the Board and we begin orienting three new members, we wish them the very best in their personal endeavors and thank them heartily for all of the time, energy, advocacy and passion they contributed to Disability Rights Nebraska. Onward and upward, ladies!
Click HERE to view this story in a downloadable PDF format.