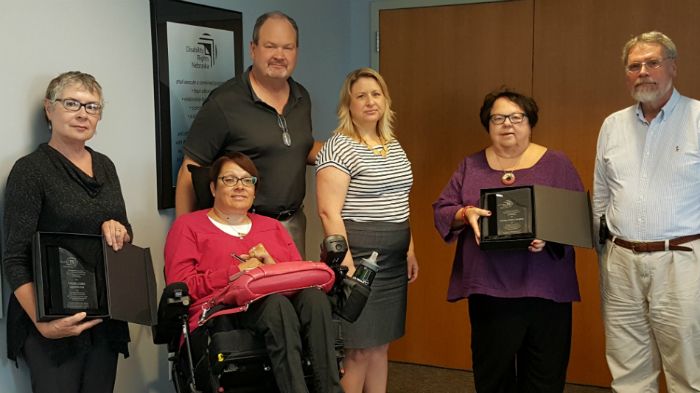 On August 27th, Disability Rights Nebraska recognized Senator Kathy Campbell and Legislative Aide Claudia Lindley for their support of Citizen Advocacy and assistance in passing LB 1033, now affectionately known as "The Olmstead Bill". Claudia thanked us for the award and movingly described the experiences that led her to become a supporter of Disability Rights Nebraska in a letter to Chairperson Jill Flagel:
"As I sat at the Board meeting and saw the members and staff people who have been so steadfastly helpful, I realized I was sharing the room with many remarkable people, but three women in particular made my legislative work possible: Kathy Campbell, [Senior Staff Attorney] Dianne DeLair, and [Lincoln Citizen Advocacy Coordinator] Bonnie Arrasmith.
Dianne showed me the dire need for an Olmstead Plan in Nebraska. She shared her experience and knowledge of people who live in isolation, without the friendship and connection to others that give life its richness. Because of Dianne, I was able to share extensive and reliable information with Senator Campbell. That information helped create LB 1033, which requires the state to adopt an Olmstead plan.
Bonnie recruited me to serve as an advocate 16 years ago. She made a "cold call" to my home and asked if we could meet to talk about service in Citizen Advocacy. There was something in her voice and in her tone that made me want to meet her, so I did. And that opened the door to what led, ultimately, to LB 1033. Without Bonnie Arrasmith, there might not be an Olmstead plan requirement in Nebraska...Yes, it took a valiant champion for those with disabilities -- Senator Kathy Campbell -- to introduce and shepherd the bill through the process. Yes, it took Dianne DeLair helping us to understand and communicate the problem and the solution. But before those vital steps, it took Bonnie, reaching out to a stranger, creating an advocate, and showing her all too clearly why advocacy for people with disabilities is so important."
These things don't happen alone or in a vacuum, and we recognize the connections between all of these women - Kathy, Claudia, Dianne, Bonnie - and their passion for advocacy that had such promising results. Claudia also saluted the work of Disability Rights Nebraska CEO Eric Evans, Public Policy Director Brad Meurrens, and Values-Based Programs Director John Murphy. Together, this team both ensured the future of the Citizen Advocacy programs for another year and moved LB 1033 forward. The passing of LB1033 opens the door to new possibilities for people with disabilities in the community.