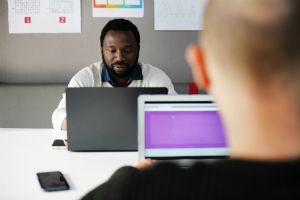 As I pondered the definition of employment, I couldn't help but consider its relation to the theory held within Maslow's Hierarchy of Needs (http://tinyurl.com/jhoef99 ). Some individuals seek employment to ensure their basic needs are met, while others work to fulfill intangible goals of self-development. From my perspective, working allows me to contribute to my local community, have a home, and make a difference in the world. A job can provide a person with the opportunity to obtain skills, financial independence, social-networking, self-worth, knowledge, community involvement, friendship, and self-satisfaction. Whatever the reason, there are countless positive and beneficial aspects of being employed that should be accessible to all people who want to work.
Statistics from the U.S. Department of Labor (http://tinyurl.com/yandhsu6) show that just 17.9 percent of people with a disability were employed in the year 2016. By contrast, 65.3 percent of people without a disability were employed during that same year. Additionally, there was a greater instance of self-employment among employed individuals with disabilities than their employed peers without disabilities.
I've spoken to countless people with disabilities who want to be employed, but because of various barriers, they aren't able to obtain or secure a job. The positive news is that people who are protected by the Americans with Disabilities Act (ADA) and employed or seeking employment, may benefit from requesting a reasonable accommodation. Reasonable accommodations enable qualified employees and job applicants with disabilities to request accommodations that make it possible for a person with a disability to have equal employment opportunities.
According to the U.S. Equal Employment Opportunity Commission, "The law requires an employer to provide reasonable accommodation to an employee or job applicant with a disability, unless doing so would cause significant difficulty or expense for the employer ("undue hardship")." There are other factors to consider when requesting a reasonable accommodation. The Equal Employment Opportunity Commission's website (https://www.eeoc.gov/laws/types/disability.cfm) is one excellent resource for learning more about reasonable accommodation. The website helps to answer questions about when a person should request the reasonable accommodation, whether the request needs to be in writing, or what steps employers are required to take after receiving a request for a reasonable accommodation.
Each person's unique traits, skills, interests, and requirements should be considered when determining which type of reasonable accommodation would make it possible for the person to perform the essential functions of their desired job. For example, a person with a mental health impairment might consider requesting flexible scheduling and/or increased natural lighting. Likewise, people with visual impairments might request screen magnification software for their computers and/or breaks to rest their eyes. A valuable service provided by the Department of Labor is the Job Accommodation Network (JAN). The Job Accommodation Network (https://askjan.org/) is another excellent resource for individuals or employers seeking guidance with reasonable accommodations, and its Frequently Asked Questions (FAQ) page provides answers to a wide range of questions.
Employees and employers both benefit when reasonable accommodations enable a person with a disability to obtain a job they are qualified to perform. Those benefits contribute to a more meaningful life experience and diverse community for everyone involved. Together, we can work more efficiently and effectively at equalizing the current, discouraging employment statistics. Sometimes, it takes a collective voice to create change. Let's educate employees and employers of the important role that reasonable accommodations can play in Nebraska's workforce and economy. In other words, let's work together to educate Nebraskans about the importance of all people having the opportunity to work in and prosper from a competitive employment community of their own choosing.
******************************************************************************
Karen Masterson has been a Case Advocate at Disability Rights Nebraska for over a year. Karen earned an Associate of Applied Science degree in Business Administration at Southeast Community College. In her leisure time she enjoys photography, fashion, travel, and culinary adventures.
Photo by:
rawpixel.com