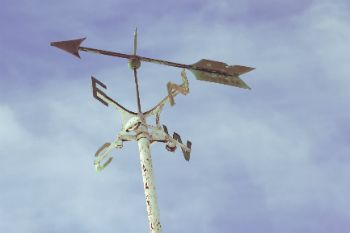 October 1st marked the beginning of our new fiscal year, FY 2018, as well as the start date for our new Strategic Plan for FYs 2018-2022. Part of the work involved in developing the new strategic plan included reviewing and revising our Vision Statement and our Mission Statement. One way to think about a vision statement is as a clear and comprehensive "photograph" of what our organization is trying to achieve in the future for the people we serve. We use this statement to construct "images of the future" for each of the goals that are stated in our strategic plan. Our new vision statement envisions a better future in which
"Nebraskans with disabilities, especially those who are most vulnerable, will be free from harm and able to exercise the same rights, opportunities and choices available to all citizens in order to live fully integrated and culturally valued lives."
Our vision is, in essence, a dream that our organization has for all people with disabilities, along with a strong commitment to making it come true through positive, effective action. This dream is grounded in the authority given to us through the seven federal laws under which we operate and the promise that is embodied in the Americans with Disabilities Act. Our vision provides the basis for developing other aspects of our planning process, i.e. mission, goals, objectives, strategies and action plans.
Mission statements are similar to vision statements in that they, too, look at the big picture. However, they're more concrete and definitely more "action-oriented" than vision statements. While our vision statement is designed to inspire people to dream; it is our mission statement that inspires action by converting our broad dreams into more specific objectives and action-plans. One of our greatest strengths is that we are independent of any public or private organization that provides treatment or services to people with disability. We also have the authority to pursue legal, administrative, and other appropriate remedies and approaches to protect and advocate for the legal and human rights of people with disabilities. Since our founding in 1977 we have used a multi-component approach in our advocacy work. This approach is reflected clearly in the following mission statement,
"Disability Rights Nebraska uses a combination of legal advocacy, public policy advocacy, Citizen Advocacy, self-advocacy and advocacy education to protect vulnerable people with disabilities, especially those who learn, live or work in isolated, segregated or congregated settings."
Why did we invest the time and energy into developing vision and mission statements like those above? First of all, they can help us to focus on what is really important. Although we might know what we are trying to do to better the lives of people with disabilities, sometime we can lose sight of this when dealing with the day-to-day hassles that plague all organizations. Our vision and mission statements help our Board, staff and allies remember what is important as we go about doing our daily work. They also give other individuals and organizations a snapshot view of who we are and what we want to do. To do this, they must be easily understood and visible so that people who may not be familiar with our organization can learn about us easily. Those who share a common interest with us can then take the time needed to find out more about us.
Concise and meaningful Vision and Mission statements can also help in identifying and recruiting other individuals and organizations to join our efforts. They enhance our image as being competent and professional, thus reassuring our funding sources that their investment in us is a smart choice. Finally, they not only help our Board, staff and allies to focus, come together and act in accordance with a common purpose, but since they were involved in the process of developing them, they come to see the work of Disability Rights Nebraska as "theirs." It is just simple common sense that people will believe in something more deeply if they have a hand in creating it.
******************************************************************
Eric A. Evans, Ph.D., is currently the Chief Executive Officer at Disability Rights Nebraska where he has been employed since 1987. Dr. Evans holds an A.B. in anthropology from Miami University (Ohio), an M.A. in anthropology from the UNL, and a Ph.D. from UNL with specialization in the Philosophical Foundations of Education. He has published articles on the history of developmental disabilities services in Nebraska, the quality of life of people with developmental disabilities and the development of the Individual Justice Plan model for people with developmental disabilities involved with the criminal justice system. He has over 44 years of experience in advocating on behalf of people with disabilities at the State and national levels.