Judith Widener Sentenced to Jail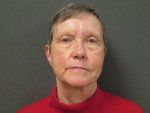 Judith Widener has become the face of guardianship abuse in Nebraska.  Her illegal actions were revealed by State Auditor Mike Foley.  She has entered a plea agreement with the Nebraska Department of Justice.  Widener's plea of "no contest" basically means she neither agrees  nor disagrees with the charges and case against her.  In her case she agrees to a Class III Felony and to pay restitution of $25,857 for the money she criminally charged to have stolen from her wards.
Widener, former director of Safe Haven, was sentenced to six months in jail and three years' probation. She must pay $25,857 in restitution and provide 25 hours of community service once she is released from jail. 
Widener's shameful actions were highlighted by the sentencing judge who chastised her for having an attitude of "minimizing" her actions.  Judge Dobrovolny said her theft from state wards "violated a strong legal trust" and was an "insult to the justice system".  He said there was no "excuse of justification" for her criminal actions.