LB 518 - PROPOSED CHANGES IN MEDICAID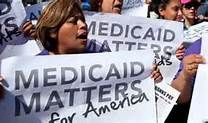 LB 518 may be well-intended to begin a discussion about alternatives and improvements to Medicaid, but it puts many individuals with disabilities, who often have no other healthcare alternative than Medicaid, at risk. 
What does LB 518 propose?
To severely limit services that would be approved for Medicaid
Further, the services under the bill would not meet the necessary medical and healthcare needs of many Nebraskans with disabilities.
For individuals with disabilities who need more services than are afforded funds are deposited into an individual's Health Savings Account
Disability Rights Nebraska
Is concerned about the ability of individuals to meet their healthcare needs with the funding ceilings put in place by LB 518.
Is concerned that the time it would take for a review/appeal of the funding might jeopardize that individual's health—let alone if the result of the appeal is a denial for an increase.
LB 518 proposes a sea change in the provision of Medicaid for Nebraska and raises more issues and questions than it answers. 
---
Materials Relating to the Bill
---
LEGISLATIVE UPDATE
February 10, 2015
Hearing - Bill is sitting in Committee
FINAL UPDATE:
LB 518 did not advance out of committee and is being held over for consideration in the next legislative session.