The Promise of the Good Life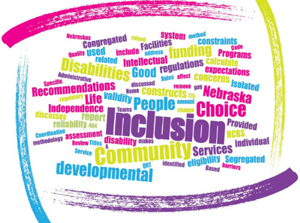 This report analyzes various legislation and initiatives currently in process, including the Home and Community-Based Services (HCBS) Final Rule implementation, and includes recommendations for procedural and system changes to chart a course to improve community inclusion of people with developmental disabilities.
EXECUTIVE SUMMARY
In early 2013 Disability Rights Nebraska commissioned the Nebraska Collaborative Inclusion Workgroup. The workgroup's charge was to identify isolated, segregated and congregated facilities, programs, and services provided to people with intellectual and developmental disabilities in the state. In addition, the group was to identify policies and practices that perpetuate isolation and segregation and models of person-centered, inclusive services and supports to counter and replace them. The workgroup's findings and recommendations include:
1. Eligibility Criteria and Determination Process The report discusses criteria used for and the process of eligibility determination. Noted concerns are the application of the statutory definition of "developmental disability" and the lack of data on eligibility findings. Recommendations include revising the statutory definition of developmental disability, revising regulations related to dual diagnosis, studying the validity of the eligibility determination assessment, and tracking and analyzing eligibility findings.
2. Funding The method used to calculate an individual budget amount to pay for services is discussed. Concerns are raised about the reliability of the assessment, the validity of the methodology used to calculate funding, and funding constraints that hamper inclusion efforts. Recommendations to address reliability and validity concerns and remove constraints that affect inclusion are identified.
3. Rules and Regulations Specific regulations in Nebraska Administrative Code, Titles 404 and 175, are barriers to inclusion. The report makes recommendations for regulatory change.
4. System Constructs The report discusses Nebraska's developmental disability system constructs related to inclusion: Service Coordination, Quality Review Teams (QRT), and the Home and Community Based Services (HCBS) Transition Plan to implement the Centers for Medicare and Medicaid (CMS) Final Rule on HCBS. Recommendations include using these constructs to set expectations for inclusion and ensure that those expectations are being met.
5. Development and Innovation Recent federal legislation calls for action to promote employment for people with disabilities. The report discusses recommendations to develop employment initiatives, including establishing Nebraska as an Employment First state, using the Workforce Innovation and Opportunity Act (WIOA) as a guide. Pilot projects and data collection and analysis are tools to promote innovation and measure
success.
The Full Report is here.