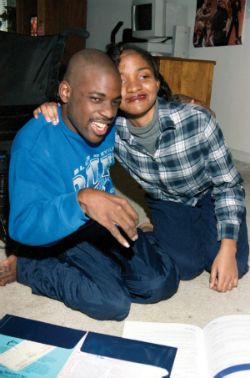 As the Executive Director for the Arc of Nebraska and a trained Social/Sexual Educator for people with Intellectual & Developmental Disabilities, the subject of sexuality and physical intimacy for people with disabilities comes up often.
It is time to "have the talk" with ourselves. People with disabilities are sexual beings. As with all of us, it is how we are created and it is an instinct within us. The urge to procreate, to become physically intimate with another is a big part of who we are as an identity. I am a husband and father. Both of those roles have, in some part, an aspect of sexual physical intimacy. As a partner in the former and a co-creator in the latter. (This dynamic fits well with this topic.)
As we know, being disabled is just a part of the human condition. It does not define a person, at least it should not. So, if people who experience disability are essentially the same, why do we have such an issue seeing them as sexual beings? At what point does a person get to assert their rights as a person who wants to be involved in a relationship that includes sex?
For those of us who have been fortunate, the law has designated us as consenting adults at 18 years of age. Each of us has made personal choices about our sexual intimacy since our age of consent, however, none of us have had to take a test, or go through an evaluation or have a team come together to discuss our plans/partners. Can you imagine the humiliation of having to do so in all of your relationships? The most personal of details, talked about in front of your parents/guardians, staff, teachers, nurse, etc.
It is time to embrace the civil rights of people with disabilities. It is time to embrace the concept of a full and capable life without the oversight of professionals. The Dignity of Risk is a concept we have all embraced for ourselves. A person experiencing a disability has the same rights to experience a fulfilling relationship as any of us. That may include being physically intimate. We try to teach to independence for people. It is beyond time to teach to interdependence. What if a person with a disability found a loving partner to support them through their lives? Is it so absurd to also envision that couple wanting to become physically intimate?
People with disabilities need to be fully included into their communities. Part of that inclusion is the identity that must include the opportunity to be in a loving, committed relationships and all that would involve. Sexuality is a part of our lives, why not theirs?
---
As a professional in the Intellectually and Developmentally Disabled (I/DD) field with 30 years experience, Michael has been a Behavior Management Coordinator, Executive Director and a Regional Director in program services. Having been trained by the Young Adult Institute, Inc. in New York, he has been a trainer in Social/Sexual Relationships for over 15-years.
As the Executive Director of The Arc of Nebraska, he has worked to create collaborations with other disability advocates and fields of service. He current serves on the Governor's I/DD Advisory Committee, the Nebraska Brain Injury Advisory Committee, Nebraska Rehabilitation Council and as a statewide advisor to People First Nebraska.