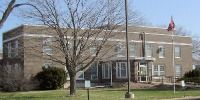 On March 7, the Nebraska Department of Health and Human Services (DHHS) released the news that the Bridges program in Hastings will be closing, and that Beatrice State Developmental Center (BSDC) would be "rightsized". Both of these actions are being taken after "a thorough evaluation of each area at BSDC and Bridges to better understand systems, patient needs and requirements," said Courtney Miller, director of the Division of Developmental Disabilities. DHHS also credits the growing success of community-based services for those with developmental disabilities in the timing of the transition.
Disability Rights Nebraska opposed the establishment of the Bridges program back in 2004. The Fact Sheet issued by DHHS on the Transition of the Bridges Program notes that there are six remaining people in the Bridges program, and that DHHS will work with the individuals and their families to "locate the least restrictive environment of the individual's choice". The Bridges Program is currently located two miles outside of the Hastings city limits, adjacent to the Regional Center grounds, isolated and out of easy reach of community life. We applaud DHHS' efforts to find more inclusive solutions for the people moving out of Bridges that allow them to participate more fully in communities of their choice with the supports and services which make that possible.
Beatrice State Developmental Center (BSDC) has long been an area of concern for the Protection and Advocacy system in Nebraska. The institution has a legacy of abuse, neglect, medical jeopardy and death (see An Indictment of Indifference, 2007). Disability Rights Nebraska's position is to advocate for the planned elimination of all Intermediate Care Facilities for Intellectual and Developmental Disabilities currently operating in Nebraska and for a moratorium on the establishment of any such facilities in the future. BSDC is one such facility. The movement to "rightsize" the operations at BSDC and its companion action to transition Bridges residents into more inclusive, community-based services are steps in the right direction.
Resources:
* An Indictment of Indifference: https://disabilityrightsnebraska-proof-presencehost-net.presencehost.net/file_download/3617d581-5cb1-4210-a5c7-8f21390da948
*BSDC Rightsizing DHHS Fact Sheet https://disabilityrightsnebraska-proof-presencehost-net.presencehost.net/file_download/fcfa5e86-966a-49c1-af0c-70e7342a9c90
*Transition of Bridges Program DHHS Fact Sheet https://disabilityrightsnebraska-proof-presencehost-net.presencehost.net/file_download/590b11c1-2247-450e-91a2-b3614481ef80