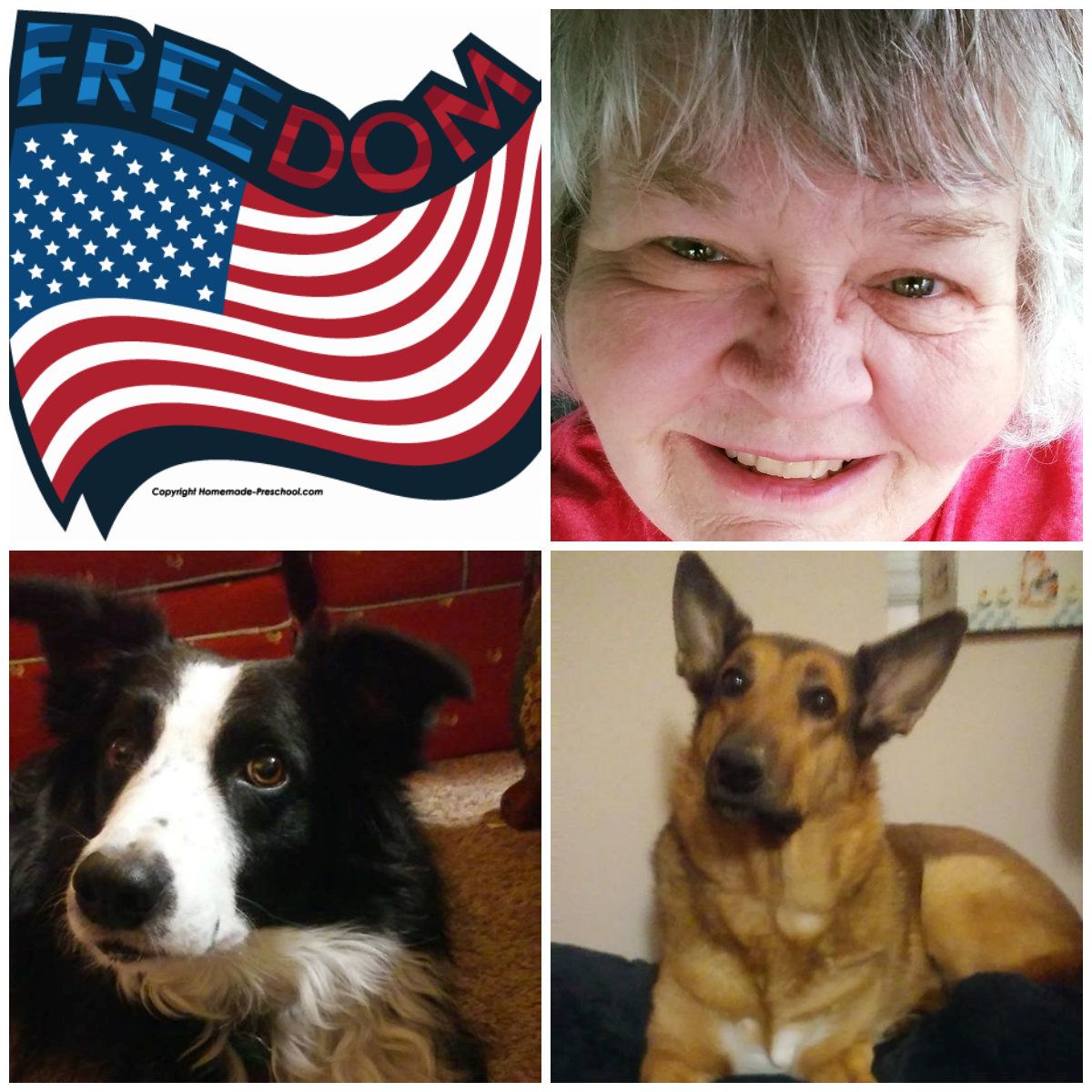 For me, my day begins every morning pushing the snooze button on my alarm clock three extra times. By the time the third snooze happens, I can barely roll over and stretch out my arm and fingers to reach the button. One might think a disability prevents me from rolling over and reaching. I do have multiple disabilities, but that is not the reason.
Dart, my 55 pound Border Collie and Baby, my 95 pound German Shepherd are strategically laying firmly against both sides of me limiting my movements. I tell each one "Move over! C'mon! Move over!" Tails flip in recognition of my command, but they choose to ignore me with stretches, sighs and groans.
It is rare they will ignore my commands because both of them are task trained Service Dogs who, when doing work for me, obey quicker than I can blink my eyes. These two dogs are miracles in my life. These two dogs give me freedom.
Freedom comes in so many forms. With Dart, I can walk briskly without staggering, falling and in a straight line! With Baby, I can sleep through the night confident she will awaken me if my blood sugar drops to dangerous levels. Both of them have been trained to be my ears and facilitate tactile and respiratory support when I feel terror. Both assist me with physical and occupational therapies that I must do several times daily.
Dogs can serve as miracles on four paws helping me and others like me, who also have disabilities, achieve sometimes impossible dreams! With the dedicated devotion and trust between my Service Dogs and me, I have the freedom to live in my own apartment, freedom to go shopping for essentials alone, freedom to walk safely crossing streets, freedom to stand up from sitting, freedom to not use a cane or a walker, freedom to meet new people each day and enjoy all my life's freedoms being able to live life on my terms and with intense and joyful gratitude.
Will Rogers is attributed with saying: "The best thing for the inside of a man is the outside of a horse." I can personally attest to that as fact, as I worked around horses for decades and started riding at 4 years old. Scientists considered that may be true about dogs, too, and began finding that a dog can make people feel happiness. The companionship of a dog can be life saving for person with depression or suicidal thoughts, heart disease, chronic illness and pain, and high blood pressure. A dog fosters mental and physical wellness, trust, patience, compassion, gentleness and responsibility.
A dog also reduces stress, increases calm, helps a human brain release the "feel good" hormone oxytocin which reduces stress and depressive feelings, and provides its owner with ability to trust, laughter, exercise, and even talking to other humans.
Freedom just might be a synonym for the word dog. Freedom to live. Freedom to explore. Freedom to be social. Freedom to be safe. Freedom to be!
*************************************************************************
This week's guest post is by Roxann Hamilton, M Ed, CPSWS, CSIS, CWRAPF, COLTC. Roxann is a person with disabilities who has used Service Dogs for 20 years and has trained Service Dogs since 1988. She is a lobbyist for Service Dog laws, Writer, Disability Advocate, and Behavioral Health Educator. In her spare time, she designs jewelry, sketches and paints, and recreates with her Service Dogs.