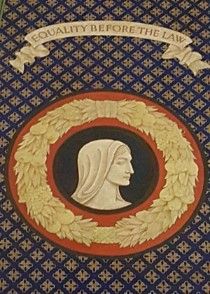 People with disabilities are people. They deserve to be treated as such. Their treatment in prison settings brings into question whether we, as a society, actually believe that.
One of the core tenets of our criminal justice system is to rehabilitate. This is not possible when individuals with disabilities do not receive the necessary medical and mental healthcare they need or when they are denied the means to communicate. When this happens, the law provides a remedy.
On August 16th, the ACLU, ACLU of Nebraska, Nebraska Appleseed, the National Association for the Deaf, and partnering law firms filed a class action lawsuit alleging constitutional violations and violations of the Americans with Disabilities Act. (Details of that lawsuit here: http://tinyurl.com/ya764scc)
The Eighth Amendment to the Constitution guarantees individuals freedom from cruel and unusual punishment. This includes denial of medical, mental, and dental healthcare as well as excessive use of restraint and isolation. The Americans with Disabilities Act also protects individuals with disabilities from discrimination on account of disability. Just what have these people been subjected to?
Well, Isaac Reeves is one example. He has been diagnosed with depression and suffers from panic and anxiety attacks. While incarcerated as a juvenile, he spent significant time in isolation and five-point restraints. According to the suit, Reeves was placed in five-point restraints for five to six days at a time. After he was transferred to the Diagnostic and Evaluation Center following a suicide attempt, he was forced to soil himself and mocked by staff as a result while in five-point restraints. Despite suffering from daily anxiety attacks and night terrors from being placed in restraints and isolation, he has not accepted mental healthcare and medications because out of fear that he may go back to the Diagnostic and Evaluation Center where he was restrained and mocked.
James Curtwright is an individual who is deaf. He also has mental health diagnoses. Curtwright uses American Sign Language to communicate and an interpreter to effectively communicate. Unfortunately, it can take weeks to schedule an American Sign Language Interpreter for a mental health consultation. Thus, mental health treatment is consistently delayed.
These are but two of the ten individuals with disabilities named in the suit who have been denied mental healthcare and reasonable accommodations.
What impact could this suit have on individuals with disabilities in the prison system? For one, it means that medical and mental healthcare will be provided. Individuals with diagnoses, such as diabetes, require proper management of blood sugar levels. Absent this, someone like Michael Gunther whose diabetes was mismanaged can lose their vision. For someone like Mr. Reeves, it means that he will receive appropriate mental health treatment without fear of being placed in restraints and isolation. For someone like Mr. Curtwright, it means having an American Sign Language interpreter available for him to actually receive mental health treatment.
People with disabilities are people. They need healthcare. They need to communicate. They need these things—even when in prison.
***********************************************************************
Brian D. Craig is a Staff Attorney at Disability Rights Nebraska where he represents people with disabilities in cases involving abuse and neglect, rights violations, and disability discrimination. He received his B.A. in Psychology and Philosophy from the University of Nebraska at Omaha and his J.D. from the University of Nebraska College of Law. While in law school, he was a member of the Nebraska Moot Court Board and was elected to the Order of the Barristers. He is a member of the Robert Van Pelt American Inn of Court, the Nebraska Values-Based Education Coalition, and serves as Chair of the Nebraska State Bar Association Public Interest Law Section.