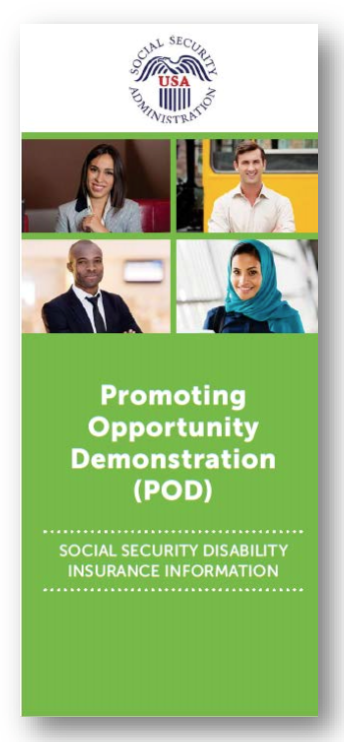 For years, individuals who are beneficiaries of Social Security Disability Insurance (SSDI) have faced the possibility of losing their benefits because they exceed "substantial gainful activity" (SGA) and are unaware of the impact until they receive a letter from the Social Security Administration (SSA) that they were overpaid. This problem is magnified by the fact that there are some SSA "work incentives," most notably "trial work period" and "grace period" that allow a person to work over SGA and not have that work activity impact benefits at all. Under SSDI, a person who exceeds SGA by as little as $1 in a month that is not otherwise protected by a "work incentive" loses the entire SSDI payment for that month. This "lose it all by barely being over" dilemma is often referred to, by those familiar with the issue, as falling off the "cash cliff."
The SSA has long been aware that this "cash cliff" creates a substantial problem for individuals who receive SSDI. This is magnified by the fact that it can take months before SSA even realizes that the "cash cliff' has been crossed, resulting in huge overpayment claims. Because of the issue, the SSA previously experimented with a "demonstration project" to have payments reduced based upon a $1 reduction for every $2 earned (the same formula used for individuals who are working and who receive needs-based Supplemental Security Income, commonly called SSI). The earlier experiment, which has been concluded, did not impact people living in Nebraska because this state was not in the demonstration project geographical area.
The SSA has started a new demonstration study, called the "Promoting Opportunity Demonstration" (POD) which will impact some individuals in Nebraska and will include simplified work incentives and a benefit offset. SSDI beneficiaries who live in Adams, Buffalo, Douglas, Hall, Lancaster, or Sarpy counties and receive SSDI only (no SSI), may be invited to participate in the POD study, which will last from 2018 through 2021. Although SSA has conducted limited recruitment for participation in POD, a broader recruitment will start in April.
First, people need to understand that recruitment for POD is legitimate. It is not a scam designed to get confidential information from you. Second, participation in the POD is entirely voluntary; you are only enrolled in POD if you complete the survey (for which you will receive $25) and enrollment form; indeed, you can complete the survey (and get the $25) and decline to enroll. Third, SSA has resources to help individuals understand the program and how it might impact their benefits. The resources can be found on the Internet at www.PODSSA.org and by phone (888) 771-9188. Finally, Easterseals Nebraska, (402) 345-2200, the agency which will manage POD in this state, will also be able to provide information about POD.
Very soon, eligible SSDI beneficiaries who live within the named counties may receive a mailing inviting them to participate in the POD. This is not a scam, and eligible individuals should feel comfortable about exploring POD participation by accessing the resources mentioned above.
***************************************************************
Michael J. Elsken is a Staff Attorney for Disability Rights Nebraska (formerly Nebraska Advocacy Services, Inc.), since 2002. He has engaged in a broad range of "protection and advocacy" activities for the agency on behalf of individuals with disabilities in the State of Nebraska. Much of his work involves both disability employment and education issues.