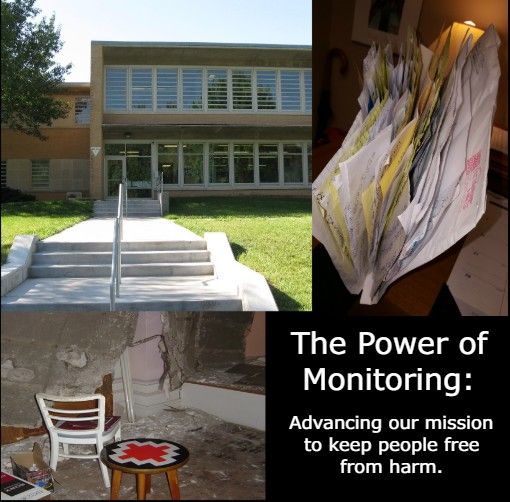 In 1972, American television viewers were shocked to see the conditions people with intellectual disabilities were forced to live in at Willowbrook, a large, state-run institution in New York. The abuse, neglect and lack of services and supports appalled Congress, too. Three years later, Congress created a nationwide network of agencies to protect and advocate for the rights of people with intellectual disabilities, also called the Protection & Advocacy or "P&A" system. Over the years, the network's scope was expanded to include advocacy services for all people with disabilities wherever they live and work.
Disability Rights Nebraska is the Protection & Advocacy system for Nebraska, one of 57 agencies in the National Disability Rights Network. Ours is an independent, private, non-profit organization established in 1978. We work to improve the lives of people with disabilities by guarding against financial and physical abuse; advocating for their basic rights; and ensuring access to and accountability in health care, education, employment, housing, transportation, assistive technology and voting.
Monitoring places where people with disabilities live or work is one of our highest priorities. As the P&A system in Nebraska, we are granted reasonable unaccompanied access to facilities or programs providing services to people with disabilities. No other organization has such sweeping federal access authority. Our advocates and attorneys can go where the people we serve are, from large public facilities such as the Beatrice State Developmental Center or the Lincoln Regional Center to small private group homes and assisted living facilities around Nebraska. While there, we meet with individuals to discuss their allegations of abuse, neglect, or rights violations, and ultimately to make sure they are treated with dignity and respect. We also take phone calls daily from family members, friends, and people with disabilities who have concerns about places where people with disabilities live and work.
Based on our monitoring visits, we may investigate a facility or program. Our goal in all of our work is to foster a society where people with disabilities have equal opportunities and participate fully in community life, living in typical neighborhoods and making their own life choices.
Over the years, our agency's monitoring has had far-reaching results: In 1998, when we were called Nebraska Advocacy Services, our work on the Caroline C. legal case secured protection for women at the Hastings Regional Center from sexual assaults and provision of trauma treatment in the institution and in community programs. It was the first case in the nation to recognize the importance of trauma-informed and trauma-specific mental health services for women with a history of sexual abuse. In 2009, the Elizabeth M. legal case was settled with the creation of the Women's Council at the Lincoln Regional Center and the development of new approaches to address the treatment needs of women with a history of trauma. This year, we reached a settlement agreement in the Ruth Cecetka case that will require the Lincoln Regional Center to establish policies to emphasize timely access to on-campus and off-campus preventive medical care, among other provisions.
We have also been shining the light on the living conditions and quality of care at other facilities around the state through our public policy work. Our agency supported a Legislative Resolution that established a special committee to oversee state-licensed health care facilities in Nebraska following the death of a veteran at a Palmer mental health facility in 2017.
Our monitoring work has had other results, too. For example, we have succeeded in removing burdensome legal guardianships for several people who were initially living in facilities. Their doctors have stated they are capable of making their own life decisions, and their expanded powers of choice allow them a greater degree of access to "the good life" typical Nebraskans expect.
Often, our monitoring visits may not have such conclusive outcomes, at least not immediately. But we believe that our presence in these facilities and programs can make life better for people with disabilities.