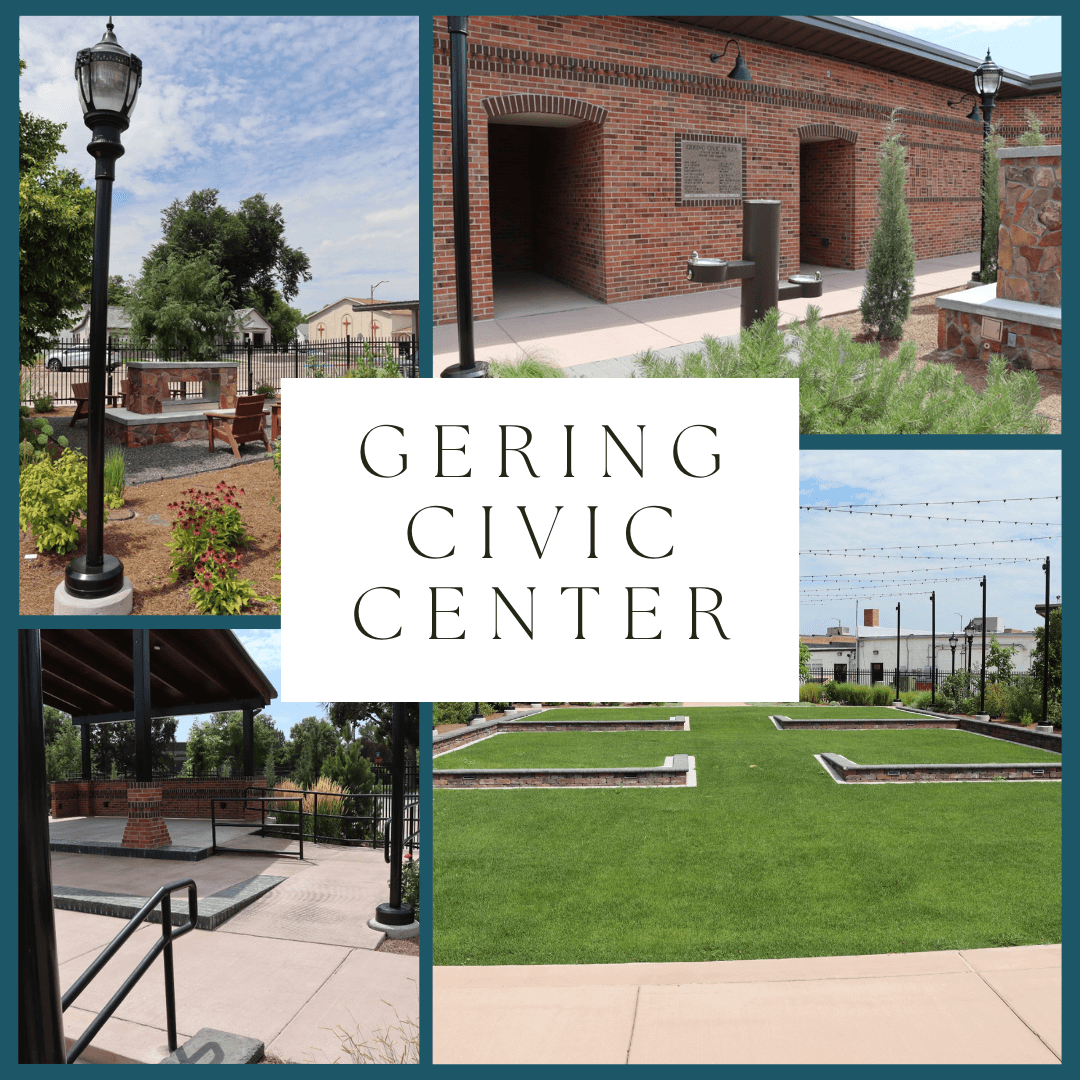 On a recent trip to the Panhandle, we stopped to check out the Gering Civic Plaza, the beautiful results of work started up and organized by the Tri-City Active Living Advisory Committee. Gering City Engineer Annie Folck worked with the Committee to make sure the Plaza fits the needs of the citizens, with a focus on making sure that no matter where or how a person approaches the park, they have access to the activities in it. It is both aesthetically pleasing and goes beyond "merely accessible" to "welcoming". The plaza includes benches, other furniture and fire pits and soon will welcome several public art pieces by noted sculptors. It serves as a gathering place for events and activities year-round.
Our Panhandle Advocate Mindy Baird represents Disability Rights Nebraska on the Tri-City Active Living Advisory Committee and was one of the core group of individuals that worked to establish the group. They worked with city officials to become a standing committee on all three city councils – Scottsbluff, Gering, and Terrytown. Their unique position as a standing committee allows for collaboration with all of the different city departments when initiating changes that will benefit all of the citizens of the tri-cities. This has been helpful to people with disabilities as well as city officials.
The way the group is made up allows for the free exchange of information between all of the participants to keep the process moving forward. It includes partners from Panhandle Public Health, the Panhandle Farmers' Co-op, Scottsbluff's Mayor, Scottsbluff and Gering Police Departments, people with disabilities, city planners, city council member representatives, the National Park Service (Scotts Bluff Monument), Western NE Bicycling Club, the local community college and local business leaders. The Committee also relies on the specific expertise of people with disabilities from organizations such as the Nebraska Commission for the Blind and Visually Impaired and Independence Rising. Their input is invaluable in making sure changes to the physical public environments in Scottsbluff, Gering and Terrytown welcome people of all abilities.
---
Sharon Ohmberger is the Community Engagement Director for Disability Rights Nebraska.