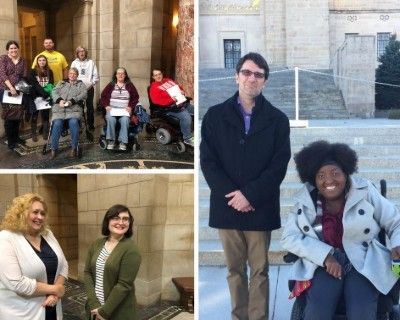 [You can also view "Disability Policy Internships - An Overview with Brad Meurrens" on our YouTube Channel.] 
Disability Rights Nebraska provides a paid internship to two college undergraduate students with disabilities in Nebraska during each state legislative session. The program integrates the students into our public policy activities so the interns are working shoulder-to-shoulder with me and our staff on our public policy work. 
The intent of the internship program is to accomplish two main goals: to expose the interns to a variety of disability-related policy issues and to provide student interns with unique opportunities to be directly involved in (and gain a little experience with) public policy advocacy.  
Several hundred bills are introduced each legislative session and one would be surprised at how many directly affect people with disabilities and/or their families — our final list of bills we work on totals approximately 30 bills each session — on a wide variety of policy issues, many of which won't be covered in the classroom (let alone from a disability perspective).  The interns are involved in conducting research on selected public policy issues, analyzing state disability legislation, writing letters to senators on identified disability bills, and testifying on a bill at one public legislative hearing--not getting coffee or making copies!    We want our interns to gain an appreciation for the scope of legislation and policy affecting people with disabilities.  We want our interns to dig into the research and increase the depth of their understanding and knowledge about disability issues.  We want our interns to have an experience that their peers will not.
While we want our interns to build their knowledge, we also want to provide opportunities for them to put their understanding to use.  Working directly with me and other staff, the interns identify a bill from our legislative agenda which they will track from beginning to end; they research and analyze the bill; and they develop testimony to submit or present at the bill's legislative hearing.  We also ask the interns to assist in writing position statements/letters on legislation.  Communicating with policymakers is a central piece of this second goal. 
The public policy/legislative process can be intimidating and overwhelming.  By utilizing our relationships with senators and other legislative staff, connections with other advocates and advocacy organizations, and our presence in the legislature, we look to get our interns directly involved in the public policy process.  We want our interns to network and meet other disability advocates and policymakers in the field.  We want our interns "plugged into" the larger disability community. The hope is that this experience will make the public policy process less intimidating. 
We want to foster a passion for disability advocacy so that our interns will become stronger advocates themselves.  We see this as a key approach to empower students with disabilities, strengthen disability advocacy, and develop future advocates with disabilities. 
For more information, email us at info@disabilityrightsnebraska.org or call 1-800-422-6691.
***********************************************************************************************
This week's blog post was written by Bradley A. Meurrens, MPA, Public Policy Director for Disability Rights Nebraska.