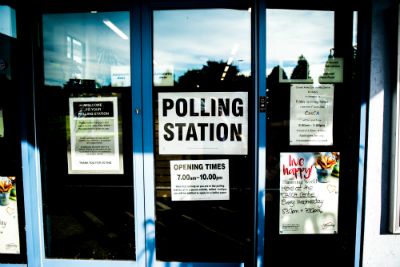 Many Nebraskans are eagerly anticipating the University of Nebraska Cornhuskers' Spring Game on April 21. Fans are hoping Head Football Coach Scott Frost will return the Husker football team to its National Championship status in the future.
Meanwhile, advocates for people with disabilities and their allies already rank Number One in an important metric of citizen participation: Nebraska has the highest voter participation rate among persons with disabilities in the United States.
That's according to a Rutgers University study cited in Stateline, a Pew Charitable Trusts newsletter published February 1, 2018. The researchers found that Nebraska's voter participation rate among persons with disabilities was more than 70 percent. That high percentage is a testament to years of strong and consistent advocacy from advocates and allies throughout the Cornhusker State.
As an agency, Disability Rights Nebraska takes several steps to encourage voter participation among persons with disabilities:
 Several staff members are deputy registrars and are able to register voters during voter registration drives conducted at group homes and work sites of persons with disabilities; at the Lincoln Regional Center, the state's psychiatric hospital; and at libraries and other locations around the state.
 Spanish-speaking contractors in Omaha and Scottsbluff further our voter registration access among persons with disabilities in these two communities.
 On Election Day, several staff members visit polling places around the state, checking for barriers that can dissuade persons with disabilities from voting. Examples of such barriers include: lack of appropriate parking designated for persons with disabilities; lack of privacy for accessible voting machine users; closed-minded attitudes or lack of training among poll workers; or physical barrier such as curbs or steps. Disability Rights Nebraska compiles the information its staff members collect and forward it to the Nebraska Secretary of State.
Disability Rights Nebraska pays for these projects with funds from the Help America Vote Act. This Act addresses improvements to voting systems and voter access identified in the 2000 election.
Our efforts to encourage voting can go only so far. The rest is up to you – register and vote! During the days and weeks leading up to Nebraska's statewide primary election on May 15, many deadlines will fly by fast. Keep the following dates in mind. Deadlines are listed for the person to be registered to vote in the upcoming election.
 April 14 – May 4: First day satellite registration office may be open for at least one day in each
incorporated city or village.
 April 30: Postmark deadline for mailed-in registrations.
-At 6 p.m.: Last day for deputy registrars to register voters for upcoming election.
-Last day voter registrations can be completed online.
- At close of business, last day voter registrations can be completed at a Department of Motor Vehicle
(DMV) office.
-At close of business, last day voter registrations can be completed at or returned to Nebraska State
Agencies or Departments, such as the Department of Health and Human Services.
-Last day for voter registration form to be delivered to the election office by someone other than the
person registering to vote for the person registering to vote in the upcoming election.
-First day clerks and election commissions may extend their office hours for voter registration.
-Last day to mail an early voting ballot with a mail-in registration application form to a person not
registered to vote.
 May 1 - Last day to accept a mail-in registration with an illegible postmark.
-At 6 p.m., last day for in-person voter registration.
-At 6 p.m., last day to receive an application for early voting ballots to be mailed out to a specific address.
 May 14 – Last day for early voting – in person – at the county clerk or election commission office.
-Noon – registration deadline for former federal employees.
 May 15 – Statewide Primary Election Day.
-8 a.m. – CDT (7 a.m. MDT) Polls open.
-8 p.m. – CDT (7 p.m. MDT) – Polls close.
***********************************************************************************
Molly Klocksin has been a Case Advocate at Disability Rights Nebraska for nearly 17 years. She loves elections so much that she has been trained as a poll worker in Lancaster County, Nebraska.
Photo Credit: Elliott Stallion on Unsplash