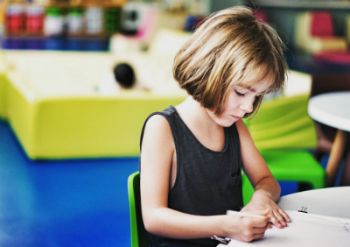 Every child probably attends a new school at some time in his or her life, so every child faces certain stressors related to that "new" status. Some children overcome these stressors with few difficulties. But for children with disabilities, those stressors can combine with their disability to make the "new" status even more difficult. For the child, and the school, the situation might take on the status described by Bette Davis's famous line: "Fasten your seatbelts. It's going to be a bumpy night." This is no-one's fault; it is simply a function of the transition process itself. Although it may never be possible to totally eliminate the rough ride, there are things that can be done to smooth out some of the bumps.
First, parents need to be aware of the impact of "new" on your child. Parents with a child who has autism may already have those "transition" issues on their radar. For other children, the impact of such a change might not be obvious. It is important to take the opportunity to sit down with your child (more than once) to allow him or her to express the concerns they may have about being in a "new" environment, and to not simply dismiss their concerns by asserting "everything will be alright". You may not be able to address them all, but by taking this step you can identify concerns that the child has hopefully take action to alleviate some of them.
Second, be proactive with the school. If you are moving to a new school district, contact the new school district to alert them to the fact that a child with an Individual Education Plan (IEP) or a 504 plan is coming to the school. The earlier this is done, the better.
• A child that moves from one district to another within a state is entitled to services consistent with an existing plan until the new school district holds an IEP or 504 meeting.
• A child moving in from a different state, under law, is not entitled the same services they were receiving in their formerly home state.
• Parents of a child with a disability moving from one school to another within the same district may still find it helpful to let the special education coordinator and the principal at the new school know that your child is going to be at their school.
Regardless of the details of "to and from", if you've already had the discussion(s) with your child about their concerns, here's your chance to alert the school to those concerns in advance.
Third, be understanding with the school. As a parent, your child is your focus, but for the school the focus is many children. Also, for smaller school districts, many of the staff may not be around during the summer, and when they do return they are preparing for the presence of many children. Sometimes, particularly with children with known and significant transition issues, it is possible to build a "meet and greet" between the teacher/staff and the child into the child's plan. Even with such a provision, you should not assume that the meeting will be as extensive as you might want, because it will be carved out from the time that the staff has available to prepare for multiple children. It probably won't be a "cure all" for transition issues, but the sharing of information benefits both parties.
Finally, and most important, make it a point to listen to your child after they start in their new environment. His or her transition-related concerns probably won't end after the first week of school. Even with the most intensive preparation there is no guarantee that the transition to the new environment will be smooth.
It is important to try to work with the school to
1) alert them to transitions issues that are on your radar, especially those that might not be readily apparent to the school staff,
2) hear from the school about any transition issues they are seeing that you may not be aware of, and
3) work with the school to flexibly address any ongoing "new school" issues.
Solutions that worked at home may not necessarily work in a school environment with multiple children, some of whom may be facing their own transition issues. The key is to understand that the "new school" environment can eventually settle as long as the lines of communication remain open and cordial.
Doing these things will not eliminate the turbulence that a "new" environment inevitably creates. That is, you may still have a "bumpy night," but taking these steps can go a long way in smoothing out the jolts.
*************************************************************************
Michael J. Elsken is a Staff Attorney for Disability Rights Nebraska (formerly Nebraska Advocacy Services, Inc.), since 2002. He has engaged in a broad range of "protection and advocacy" activities for the agency on behalf of individuals with disabilities in the State of Nebraska. Much of his work involves both disability employment and education issues.
Photo by pan xiaozhen on Unsplash